WWE fans have watched Punk and Cena put on some of the company's best matches in the PG Era. They added to that collection with their latest—a fantastic match where the winner earned the right to face The Rock at WrestleMania.
The contrast in their personas, the blend of their in-ring style and how they seem to inspire each other have made for an ideal feud.
Yes, WWE fans have seen Punk and Cena go at it a number of times in the last two years. The best rivalries, though, entertain despite their lack of novelty.
Fans saw Ricky Steamboat vs. Ric Flair or Shawn Michaels vs. Triple H time and time again. These foes managed to find new ways to entertain us, to keep the fire of their mutual hatred going.
So far, that's what Cena and Punk have created. They represent a dependable go-to option for WWE's writers.
 No Light Without Dark
A big part of what makes Punk and Cena so special is how distinctly they differ.
Cena is the goody two-shoes, clean-cut, family-friendly WWE golden boy. Punk is the edgy, silver-tongued narcissist. One represents the mainstream, the other, the fringe.
As much as their styles and personalities clash, it almost seems as if each man were created as the other's ideal opponent.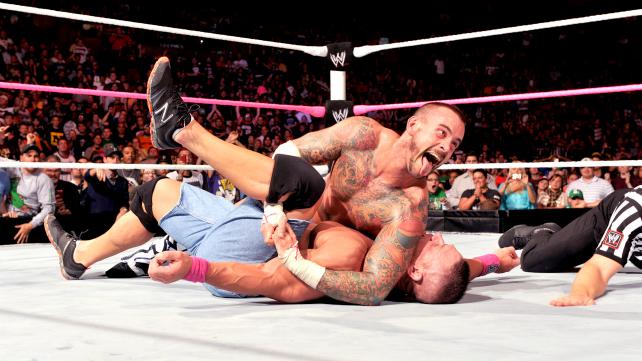 French author Louis Aragon once wrote, "Light is meaningful only in relation to darkness."
This concept helps explain the attraction to Punk and Cena's rivalry. For Punk to project his anti-establishment image, he needs a figure of establishment to stand out against. For Cena to showcase his merits, his honorable traits, he needs a rival whose faults provide a stark contrast.
Their position as opposites has energized their battles. Like when two ends of a magnet meet, something powerful emanates from them.
Drawing Out Greatness
Punk brings out the best in Cena. Cena brings out the best in Punk.  
Either in the ring or armed with a microphone, each rival pushes each other to his absolute best.
As their Night of Champions 2012 match approached, there was little electricity sparking. It was a matchup that fans had seen several times over. Cena and Punk managed to reinvigorate their feud with a fabulous segment on Raw.
John Cena and CM Punk segment before Night of Champions 2012
Cena gave one of his best performances that night.
It was as if being in Punk's presence sharpened all of Cena's swords. The same was true for Punk. There were far fewer sparks when Punk berated Alberto Del Rio, Chris Jericho or John Laurinaitis.
Punk and Cena's mutual inspiration evoked their greatest efforts. This seems to carry itself to the ring as well.
Cena, at his worst, is a sloppy wrestler with a limited repertoire. At his best, he is a vital part of a wrestling masterpiece. Few guys make the most of a big moment like Cena does.
A growing number of Punk's best matches have been against Cena. With Monday's instant-classic now over, add that to their greatest hits collection.
John Cena vs. CM Punk-Money in the Bank 2011
Their chemistry explains some of it, but there also seems to be something about their rivalry that inspires both men to elevate their games. The best, it seems, play their best against the best.
This will no doubt lead WWE to return to Punk vs. Cena again at some point. It's just too good to ever fully abandon.
Cena will head into WrestleMania 29 with revenge on his mind. He will continue his high-profile feud with The Rock, while his best rival is forced to slink away from the main event spotlight for now.